REPORTAGE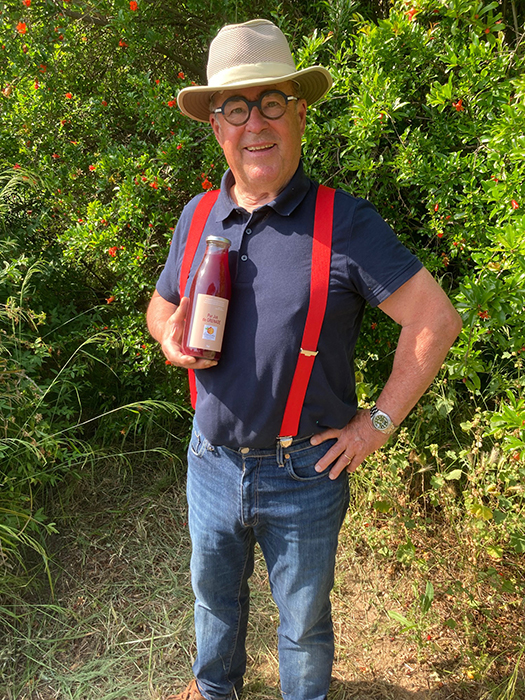 POMEGRANATES, MORE THAN A FRUIT: A PASSION!
Known for millennia, the pomegranate has made its way over from Asia to be cultivated on the shores of the Mediterranean. Today, the fruit is thriving at the edge of Thau lagoon in the Domaine de la Rouquette orchard in Marseillan.
It is in this natural setting, with Mont Saint Clair in the distance, that Henri Barde has dedicated his time to perfecting pomegranates for nearly five years.
After working in the food industry for more than 35 years and co-founding the "Gamme des Chefs" (Chef's Range) company in Rungis (the gigantic fresh seafood, produce and food market near Orly Airport servicing all Paris restaurants), Henri Barde turned his attention to producing pomegranates.
He underwent formal training and made numerous trips to Elche in southeast Spain – the European mecca for pomegranates – in preparation for planting the first orchard in Marseillan.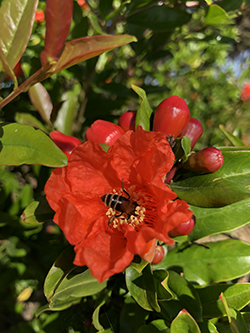 Pomegranates are said to be one of the healthiest fruits that exist. They come in more than 1,200 varieties, divided into two large families: so-called "mouth" pomegranates, so sweet they are destined to be eaten as fresh fruit, and "juice pomegranates", which are more colourful but have a much more bitter and tangy taste.
To offer his customers the best of both worlds, 65% of the orchard is planted with juice pomegranates and 35% with sweet pomegranates.
Henri Barde's "pure organic pomegranate juice" is available to shoppers at Botanic d'Occitanie stores, at the Maison des Orpellières in Sérignan. In the coming months, his pomegranate juice will start appearing on breakfast buffets at luxury hotels on a test basis, alongside traditional orange juice, to offer guests a different kind of healthy antioxidant to kick start their mornings.
Henri Barde
Pomegranate orchard
Domaine de La Rouquette
Route de Mèze
34340 Marseillan
Telephone: 06 14 55 29 22