Towns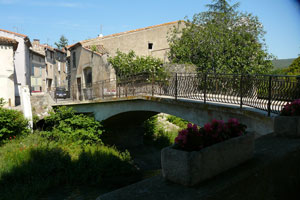 Villeneuve-Minervois
The Village of Black Gold
Located at the foot of Black Mountain (Montagne Noire) at the entrance of the Clamoux Valley, this village of vineyards whose wines are ranked among the best of the Minervois is also renowned for its black truffles, which are sold at special truffl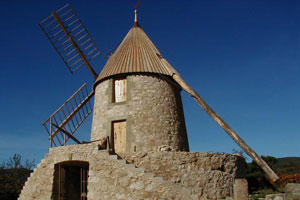 e markets held during the winter. The reputation of these black diamonds continues to grow year after year.
The tiny medieval village of Villeneuve-Minervois tells a rich story to visitors who leisurely stroll through the heart of its historic centre, protected by a fortified castle built to guard the entrance of the Clamoux Valley following the Albigensian Crusade.
Let yourself drift over its bridges, through its squares, old public laundry washhouses (lavoirs) and alleyways on a treasure hunt. The reward comes when you arrive at Saint-Etienne Church with its pointed arch nave, Gothic style chancel, Renaissance porch and interesting square bell fortified in the 12th century. Don't miss the restored windmill put back in operation by a passionate winemaker. Watch wind power completely transform wheat into flour all the way up through the packaging process. Lastly, the don't miss the Maison of Truffles in Languedoc and its amazing museum.
Haut-Minervois Tourism Office: +33 (0)4 68 76 34 74
www.villeneuve-minervois.com