Towns
Saint-Amans Soult: In honour of the marshal!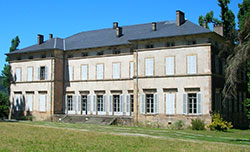 Everything here recounts the story of Marshal Jean-de-Dieu Soult, born in the commune in 1769, and who distinguished himself in the Grand Army of Napoleon the First. Previously known as Saint Amans-La-Bastide, the 13th century royal fortified village was renamed in 1851 in honour of this great soldier and statesman. You will find yourself in a place that traces its historical heritage along an itinerant route from the Marshal's birthplace to his tomb at the church (and former barracks) with a beautiful Renaissance façade and fountains ... Without forgetting the Château of Soult-Berg, which reflects the various striking styles of the early 19th century. It is located in the centre of a 40-hectare English-style park. Some 200 local and exotic plants are thriving there amidst groves, ponds and canals that represent the Battle of Austerlitz (free entry).
1 Removing the wool from sheepskin hides.
Mazamet Tourist Office - www.tourisme-mazamet.com 05 63 61 27 07