Towns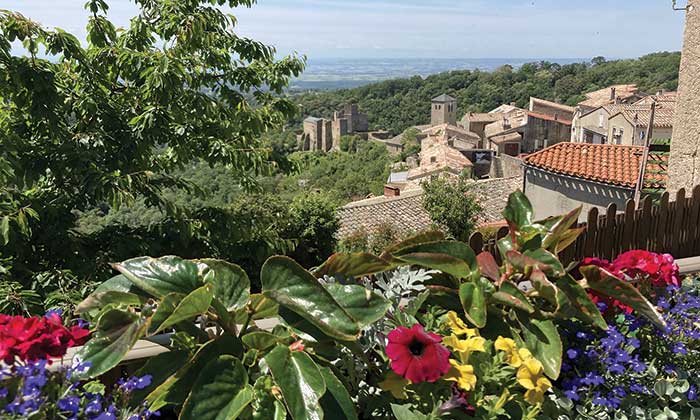 SAISSAC AND ITS CHÂTEAU WHISPER TO THE PYRENEES
Set atop a rocky outcrop, the medieval village of Saissac holds a thousand treasures to discover. Start with the very rare royal coins discovered in 1979 and on display inside the restored château. This small Montagne Noire (Black Mountain) village's alleys invite you to come out for a leisurely stroll, before splashing into in the cool refreshing waters of the lake at Lampy.
First and foremost, a breathtaking view. Start your tour by seeing the oldest château in Cathar Country – the first writings mentioning it date back to the end of the 10th Century – and taking in its equally majestic landscape with the plains of Carcassonne, Lauragais and the white outlines of the Pyrenees Mountain chain in the background. A picture-postcard perfect view!
Two imposing medieval towers dominate the Saissac city centre skyline. The Tour Grosse and the Tour Roussignole bear witness to the city's glorious past, with fortification walls built up and protection provided by the high nobility. Get lost inside the narrow alleys leading up to the château. Along the way, you will come upon an old wash house, hear the water running through the canal and visit the Maison des Saptes, a small fortified palace. Take a short break to see Saint Michel church, built in the 14th Century using marble slabs from Caunes-Minervois, the same marble chosen for the Petit Trianon in Versailles (a château Louis XVI gifted to Marie Antoinette), among other famous French monuments.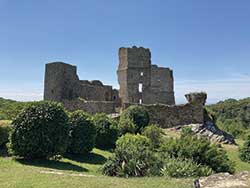 Move on to explore the sturdy fortifications. These lofty walls were constructed in the 12th Century at the behest of the wealthy Bertrand de Saissac, the patron protector of the troubadours and the Cathars. An untold number of treasure hunters have sacked and even dynamited the site in search of hidden loot. The treasure was real – and finally unearthed in 1979 – 2,000 small coins dating from the end of the 13th Century, turned over to the museum. Restored rooms in the château display the Monetary Treasury of Saissac, which is the largest royal buried treasure in Languedoc.
A visit to Saissac is not complete until you've seen it from above. The lake at Lampy lies just 10 minutes away, outside the village. Stroll through the arboretum or along the Rigole de la Montagne (mountain stream) that feeds the Canal du Midi, before diving into the lake's crystal clean waters.