Towns

CASTELNAUDARY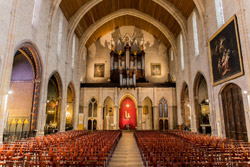 Castelnaudary is a quiet town sitting on exceptional heritage : the Canal du Midi. Its reflection is mirrored in the 'Great Basin', between the locks of St-Roch and the Ile de la Cybèle.
Today commercial traffic has given way to pleasure boats which follow a scenic series of locks and small bridges. Castelnaudary has become an important leisure port on the Canal du Midi.
The old town, built in brick, overlooking the Lauragais plain, is the world capital for the dish Cassoulet. The imposing collegiate church of Saint Michel dominates the town. It is surrounded by a veritable labyrinth of ancient streets and half timbered houses which reveal the rich commercial history of Castelnaudary. The Cugarel windmill, with its views of the Black Mountains, is open for visits and still has its original machinery from the 17th century.
The Tourist Office offers walking tours which reveal the secrets of this small town as well as tours of the surrounding area: the Abbey of Saint Papoul, the Not Pottery, the watersports centre on Lac de la Ganguise, the standing stones, the Cather memorial in the village of Cassès and much much more !