ART: EXHIBITION
guino - renoir: the colour of sculpture
musée hyacinthe rigaud at perpignan from 24 june to 5 november 2023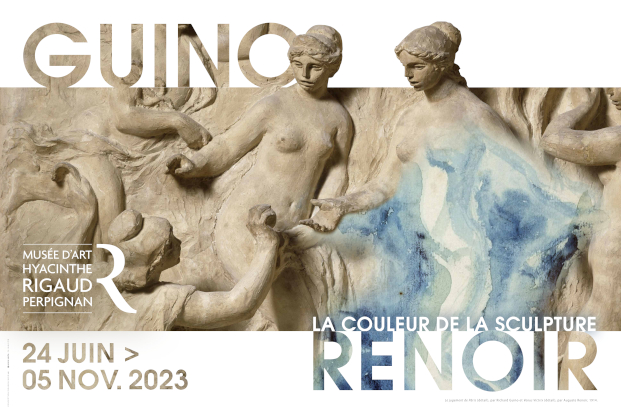 More than 200 works offer a window into the fantastic careers of sculptors Richard Guino (1890-1973) and Pierre Auguste Renoir (1841-1919). The pair's highly successful collaboration constitutes a rare episode in the history of art. Guino, a child prodigy, established a place for himself in the Catalan artistic landscape from a very young age. At the age of 16, his talent was spotted and supported by the newspaper La AcciOn, giving rise to a long and prolific career. The artist explores various media in all of its forms: glass, ceramic, metal, wood, plaster, bronze, paper and paint. The famous painter Aristide Maillol asked him to join him in France to work at his side. Once in Paris, Guino was free to fully unleash his creativity. The exhibition showcases the evolution of the Guiono's career as a sculptor, as well as his contributions to the decorative arts. Visitors will also see the complete works from his golden period working with Renoir, from 1913 to 1917, the fruit of a brilliant introduction made by art dealer Ambroise Vollard.
Musée d'art Hyacinthe Rigaud - 21 Rue Mailly - 66000 Perpignan
Telephone: 04 68 66 19 83 - Web: www.musee-rigaud.fr
ART EXHIBITION
martial raysse: "Œuvres récentes" (recent work)
musée paul valéry - sète - from 17 june to 5 november 2023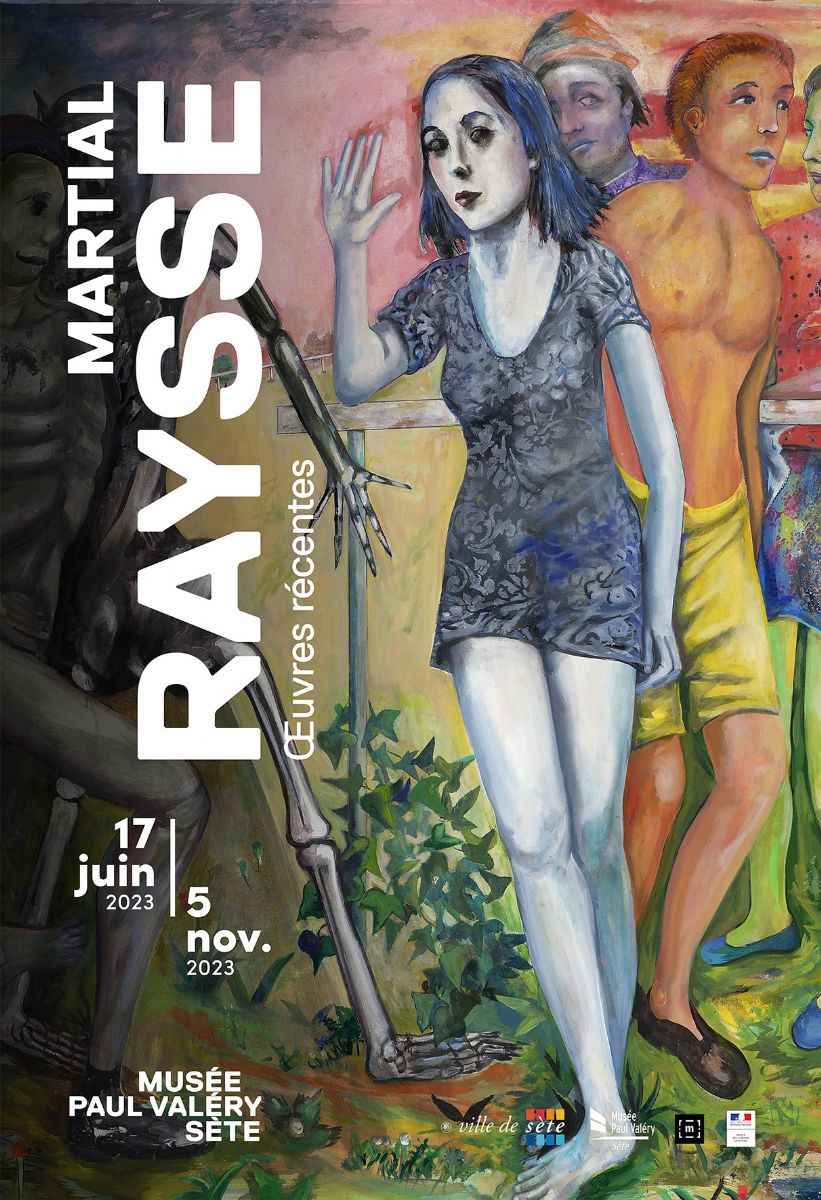 The exhibition introduces the public to a major set of new works by France's greatest contemporary painter. Following an acclaimed retrospective at the Centre Pompidou in Paris in 2014 and Venice's Palazzo Grassi in 2015, Martial Raysse graciously accepted an invitation to present his most recent works, as well as numerous pieces from the retrospective. Featuring several yet-to-be-seen large paintings on canvas, the show brings together nearly 100 works and also includes sculpture and drawings. While being counted as one of the first Pop artists and a leading member of the Avant-Garde movement, Raysse still manages to uphold the French tradition. Reconciling lightness and gravity, Raysse dedicates himself to a meditation on the relationship between art and the world. His female models represent figures from great paintings or they are anonymous women elevated to the rank of mythological yet contemporary Dianes or Venuses. His large compositions marked by violence and death borrow as much from historical painting as from allegorical painting. Raysse emphasises the eternal theatre of human passions, shaken and stirred by the tribulations of desire and death.
Musée Paul Valéry - 148 Rue François Desnoyer - 34200 Sète
Telephone: 04 99 04 76 16 - Web: museepaulvalery-sete.fr
ART EXHIBITION: CULTURE
"autant que faire se peut" (As Much as Possible)
THE maison des consuls, LES matelles - until 26 november 2023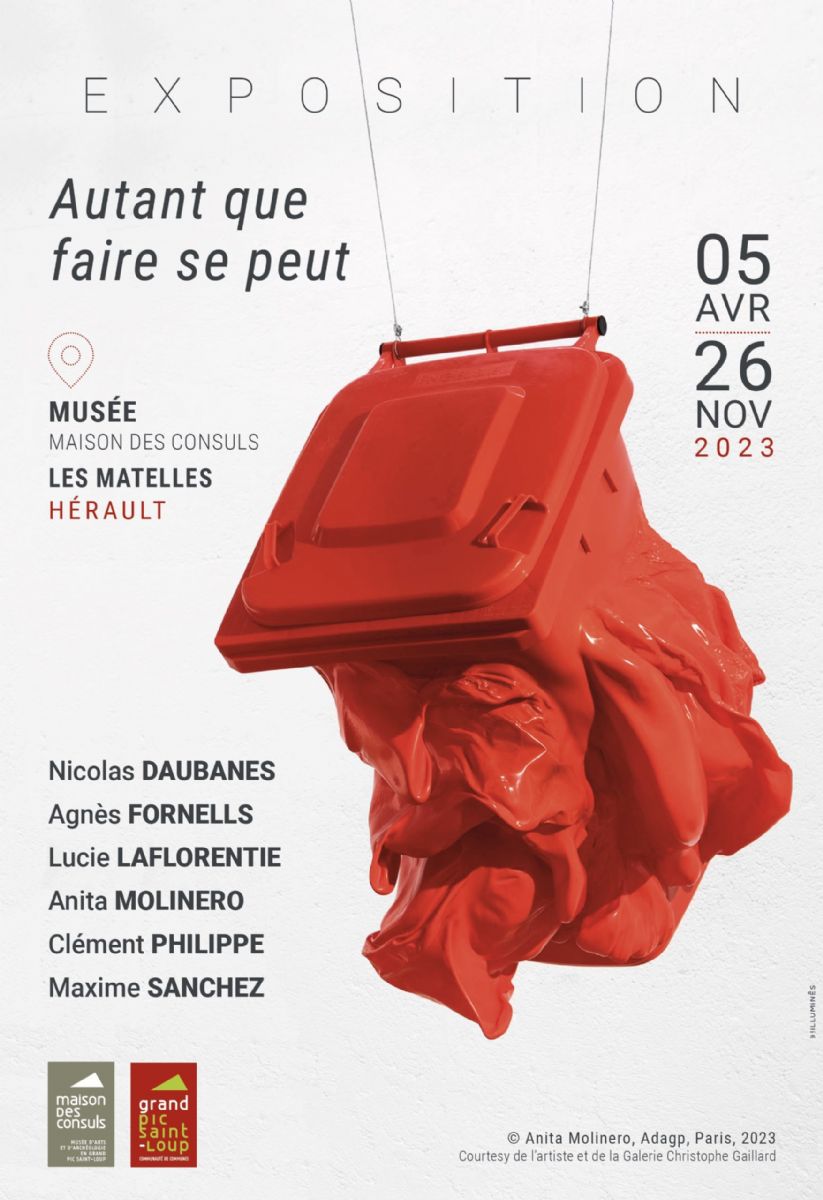 The Maison des Consuls in the centre of the medieval village of Matelles in Grand Pic Saint Loup is hosting the contemporary art event Autant que faire se peut. The exhibition focuses on an artist's desire to transform matter, a willingness to experiment and above all, to "do it yourself". Lisa Crespy, curator of the exhibition, has structured it with one room dedicated to each of the six participating artists: Nicolas Baubanes, Agnès Fornells, Lucie Laflorentie, Anita Molinero, Clément Philippe, Maxime Sanchez. The exhibition title sounds like a reminder to keep an ounce of hope alive. Obviously, artists worked to overcome the government-enforced lockdowns during the Covid 19 pandemic by still attempting to create, all the time and everywhere it was possible. In other words, if something can be done, then let's do what we can to get it done.
Maison des Consuls - Rue des Consuls - 34270 les Matelles
Telephone: 04 99 63 25 46 - Web: www.maisonsdesconsuls.fr
ART: EXHIBITION
Anselme Boix-Vives
Musée d'Art brut Fernand Michel in Montpellier from 3 may to 3 september 2023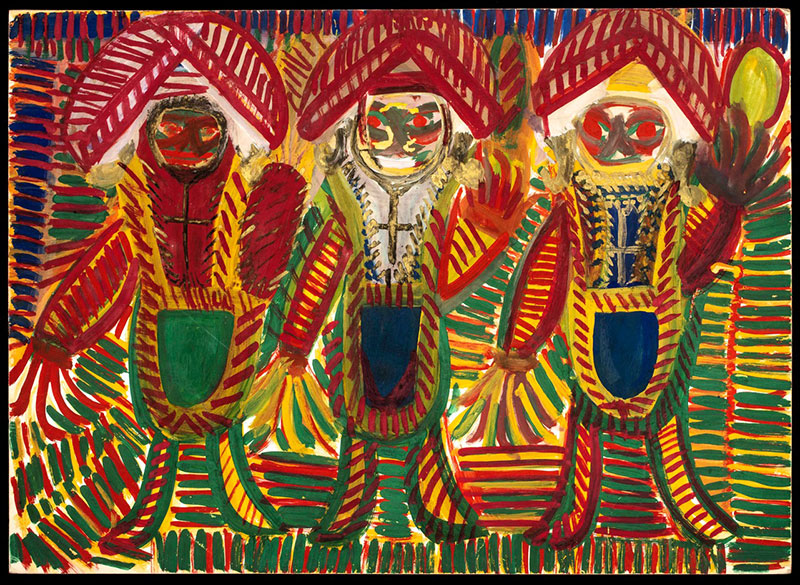 Anselme Boix-Vives was born in Spain in 1899. The son of a sharecropper, he did not attend school, instead working as a shepherd for his family's sheep and hogs. At the age of 18, he emigrated to France where he worked a series of jobs. He did not begin painting until his retirement, after he moved to Moutiers in Savoie, where he remained until his death in 1969. In the 1950s, he began a utopian project that he would carry on for the rest of his life, a "world peace plan" to save the planet. Boix-Vives sent his manifesto to world leaders but never received a response. His years in retirement were his most productive time, yielding more than 2,400 fascinating and colourful artworks, often created on pieces of cardboard torn from used boxes. Today he is considered as a major artist in the Art Brut movement. Boix-Vives populated his ideal world with magical characters and surreal jungle animals living in the glory of nature. He also painted significant political subjects including John F. Kennedy's funeral and the civil rights march in Washington, D.C.
1 rue Beau Séjour - 34000 Montpellier - Telephone: 04 67 79 62 22
www.musee-artbrut-montpellier.com
ART: EXHIBITION
« Glass Finlandia » AT La Halle du Verre
IN Claret, Grand Pic Saint Loup from 19 april to 26 november 2023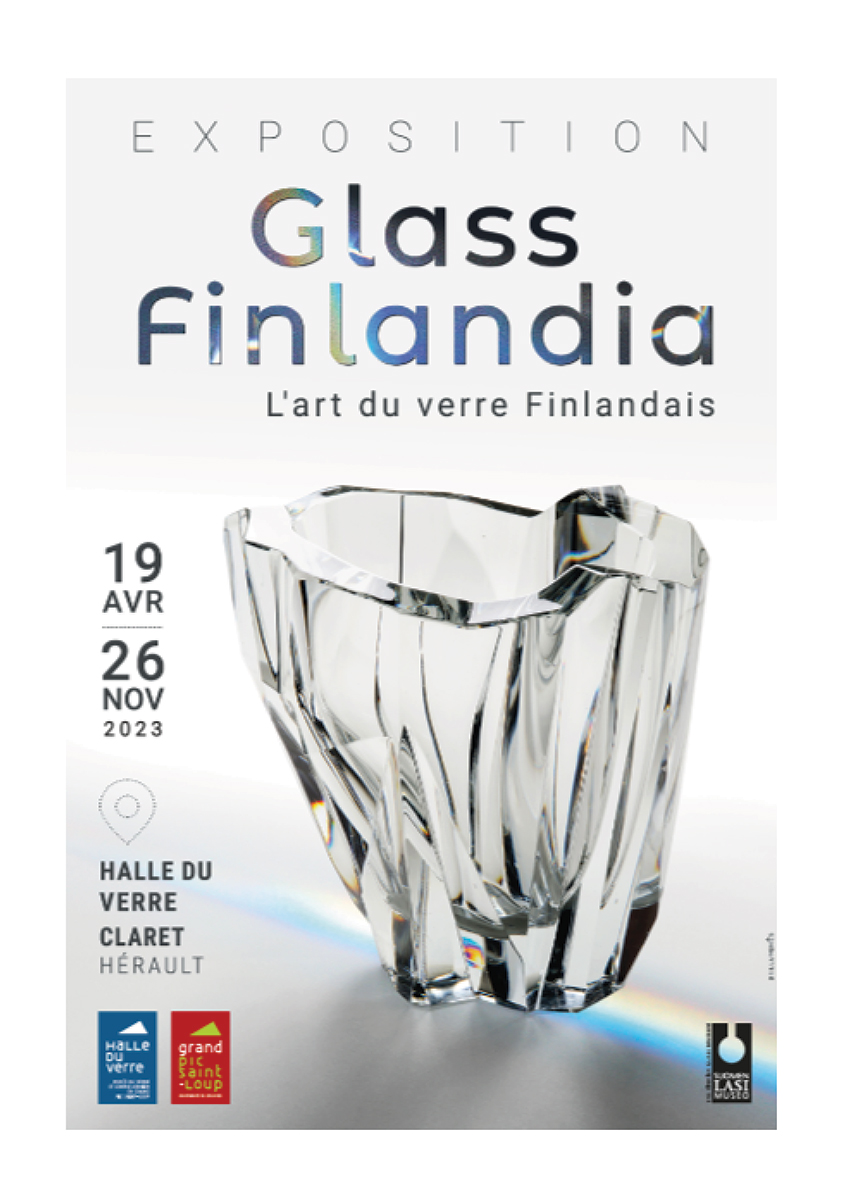 This museum dedicated to the art of glass sublimates glass objects in their most poetic dimension. It serves as an interpretation centre, a site for temporary exhibitions and a place for public demonstrations showing how contemporary and historical glass art pieces are made. "Glass Finlandia" features Finnish glass art dating from the 1930s to the present day. It offers visitors not only a unique opportunity to see innovative treasures and to appreciate nearly a century of creative works, but also a chance to understand the links between the worlds of art and economics. Visual and aesthetic developments reflect the influence of nature, as well as the importance of basic geometric proportions and principles in lines and shapes. More contemporary studies and experiments explore the relationship between "Scandinavian design" and the role of "Studio Glass". The 163 exceptional works in this exhibition are on loan through a partnership with the Riihimaki Museum in Finland.
La Halle du Verre - 50, avenue du Nouveau Monde - 34270 Claret
Telephone: 04 67 59 06 39
For more information and tickets: www.halleduverre.fr