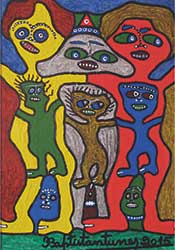 EXHIBITION
Joaquim Baptista Antunes at the Musée d'Art Brut - Fernand Michel Montpellier
Joaquim Baptista Antunes was born in 1953 in Portugal, the child of a poor working-class family. At a very young age he revolted against the religious conformism and popular beliefs espoused by his community. By the age of fifteen, he had started making drawings depicting all kinds of imaginary monsters. His work soon caught the eye of poet and surrealist painter Mario Cesariny, who strongly encouraged him to pursue his gift for painting. Joaquim Baptista Antunes moved to Paris in 1987. His next step was to join the Neuve Invention (New Invention) art movement in Lausanne and then the whole "singular" art circuit. His paintings and sculptures of symbolic and decorative inspiration always show a main monster figure with smaller monsters nested one inside the other, the outlines defined by a simple black ring around boldly coloured forms.
For more information: www.atelier-musee.com / 04 67 79 62 22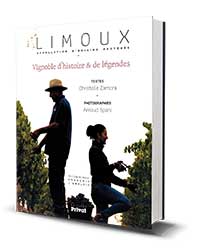 BOOK / NEWS
Limoux and its wine appellations
Dating back 80 years, the name Blanquette-de-Limoux is the oldest appellation in Languedoc. Through personal stories and documents, journalist Christelle Zamora and photographer Arnaud Späni tell the tale of Limoux appellation wines and sparkling wines and their history: the Midi reds crisis, the conquest of new markets and their heritage. Unique in its kind, the AOC Limoux remains a stronghold of Languedocienne effervescence as well as a great terroir for white wines. Cultivated in the Occitanie region, these wines anchor a specific terrain sandwiched between two micro-climates, truly an asset for the entire region. Produced with the support of Limoux vintage wine producers and three-star chef Gilles Goujon, this book holds a place amongst beautiful coffee table books.
"Limoux, Vignoble d'histoire et de légendes" (Limoux, Vineyard of History and Legends", published by Éditions Privat, 34 euros.