REPORTAGE
Vatel, an international influence
Vatel Group is a key figure in the forever evolving tourist economy. The client experience is at the heart of its preoccupations. In Nimes, the hotel school has just completed the third stage of its investment programme (1.5M€) which started in 2015 with the high-tech Vatel salon, then continued in 2016 with the renovation of the terrace and construction of the brasserie's pergola and now the reception area with access to the hall via a revolving door, a living green wall, fountains, designer furniture and secure parking with a free charging point for electric cars. The group has chosen to work with selected local and regional artisans and companies, including the Nimes architect Marie-Laure Rinaldi.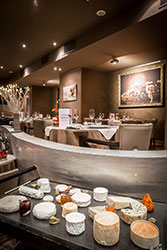 The Nimes establishment is the pilot school for Vatel Group which was founded in 1981 in Paris. The school was the launch pad for the group's international development and has made Nimes known throughout the world. The 'Vatéliens', as the students are known, are trained in Nimes and undertake their work placements in the great international hotel groups. Once qualified they can work in all four corners of the globe. The Nimes school welcomes 850 students per year, of which 45% come from abroad. The students spend time in every section of the hotel from the spa, restaurant, boutique as well as the school. The students are trained by, no less than, the Head Chef Jean-Luc Heilmann and Patisserie Chef Rémy Erhard. Vatel is the world leader in Hotel-Tourism Management training.
Under the directorship of Anne-Maud Aguilar the newly revamped Hotel Vatel awaits your arrival at its brasserie, gourmet restaurant, well-being space and 42 rooms and 4 designer suites....and of course everything is Tres Chic !
Hôtel et Spa Vatel ⭐️⭐️⭐️⭐️
140, rue Vatel / 30900 Nimes
Tél . 04 66 62 57 57 / www.hotelvatel.fr