REPORTAGE
Ferlus Cellar ...

From the line of a great-great-grandfather: Charles Ferlus.
It all started when Pascal Rey Saint Martin found a bottle of wine from the 1897 vintage deep in the recesses of his cellar. His passion for wine and its history spurred him on to open a wine bar and become a wine merchant in the pretty little village of Tourbes just next to Pézenas. Pascal decided to name his business in honour of his great-great-grandfather Charles Ferlus and write a new chapter of his family history. The late Mr. Ferlus owned several estates in Languedoc and in 1913, decided to build his family home in Tourbes next to his brother's house. He also built a cellar to make his own wine from grapes harvested from 25 ha of vines found in the village.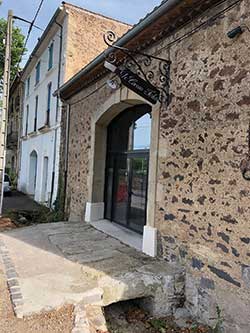 Today, this historic cellar has been updated with a touch of modernity, lending it an air that is friendly and warm. Live music is played, and Pascal serves up hot and cold tapas dishes that change according to the seasons. More than 150 different wines are available by the glass or by the bottle. The winemakers have organised theme evenings to further promote their profession and their bottles.
Caveau Ferlus is a place for meeting friends, relaxing and spreading the word about Languedoc and Roussillon wines.
Caveau Ferlus, 5 avenue de la gare - 34120 Tourbes
Telephone 04 67 93 50 61