Towns

Prades
Between the Mediterranean and Andorra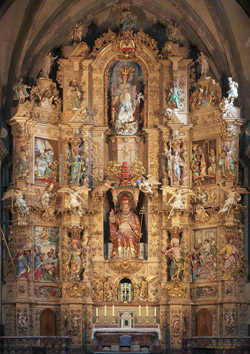 Prades is the capital of the Conflent area and lies at the foot of the Canigou massif - the sacred mountain of the Catalans, which is classified as a Grand Site of France.
Bathed in sunshine, Prades and Le Conflent offer enchanting landscapes where the snows of the Canigou blend with the colours of the blooming orchards.
Mixing tradition and modernity, Prades has a remarkable cultural heritage visible in St-Pierre Church, with its sumptuously furnished Baroque altarpieces, the Treasury rooms, the timbered Jacomet house and the typical streets with carved plaster facades, pink marble porches, oratories, fountains and public washing places ...
The library has a large museum collection dedicated to the great men from Prades, including the famous musician Pablo Casals.
Two jewellers in town continue to craft the traditional Catalan garnet stones, and the artists can be visited their workshops.
Prades also holds markets and events throughout the year with several renowned summer attractions: the Romanesque days, Ciné-Rencontres, the Pablo Casals Festival and the Universitat Catalana d'Estiu ...
Visits nearby include many architectural masterpieces - Romanesque abbeys, the Vauban fortifications, which are Unesco World Heritage Sites, and 4 of the most beautiful villages in France.
Office de tourisme de Prades
10 Place de la République
66500 PRADES
Tél : 04 68 05 41 02
Site Office de tourisme : www.prades-tourisme.fr