Towns

PORT VENDRES
Historic port at the foot of the Albères
With its multi-coloured fishing nets spread along the quayside and its pastel coloured houses, the main fishing port for the Pyrénées-Orientales is a picture in itself. The town is defined by shape of the land and its attractions can be found by wandering its streets. Start your tour with the Obelisk quay, where you will find a collection of buildings from the 18th century, in honour of Louis XVI.
Higher up the hillside sits the Dome with its square and gardens, and the former military barracks. It holds the Paul-Antoine Leberger art centre and a space dedicated to Charles Rennie Mackintosh who tirelessly painted the port. Continue your tour in the direction of the Artillery quay where you will find the cenotaph, by Aristide Maillol, 1922, featuring Venus offering the olive branch in commemoration of those who fell during the war, and also the church of Notre Dame de Bonne Nouvelle, 1888, which is an unusual blend of Roman-Byzantine architecture on the outside and a Neo-Gothic nave inside.
The Redoute du Fanal, the lighthouse by Vauban at the end of the harbour, built between 1673 and 1700 to defend Port-Vendres, leads to the statue of Notre Dame de Bonne Nouvelle which offers a superb viewpoint. Walking back through the commercial port, along the Douane quay, you will find the Tour de l'Horloge clocktower.
L'Anse de Paulilles : A jewel in the coast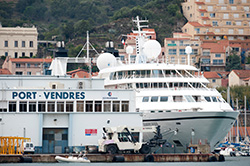 Hidden in the foothills of the Albères, just behind Cap Béar, can be found this stunning listed site. It is worth making the detour to explore its Mediterranean and exotic vegetation, its beautiful beaches overlooked by terraced vines and its rich history.
Tourist Office. Tel : 04 68 82 07 54. www.port-vendres.com